A lesser-known yet powerful keratosis pilaris home remedy shown to be quite effective for some KP sufferers are herbal poultices. Poultices are age-old remedies that use natural herbs to extract harmful substances from the skin while simultaneously helping to soothe skin irritations.
Keratosis Pilaris Home Remedy
Either one herb or a mixture of herbs can be used to create a poultice. The type of herbs to use depends on the intended effect: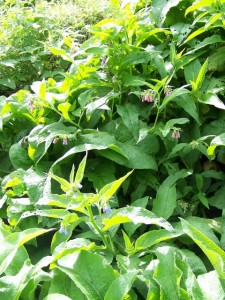 Calendula is an anti-inflammatory herb derived from the head of a European flower. It can help to alleviate the inflammation caused by keratosis pilaris.
Burdock is a European flower with a long history of use for people with various skin diseases. The herb works by helping to restore normal liver functions and thus aiding detoxification.
Marshmallow is a traditional herbal remedy as well. It is known to coat and protect tissue from inflammation.
Peppermint leaves produce a cooling sensation on the skin that may help keratosis pilaris sufferers. Its soothing effects can provide relief when the skin is dry and irritated.
Basil leaves are excellent for irritation as well. Basil contains thymol and camphor, elements that relieve itching.
Someone suffering with keratosis pilaris can use any of these herbs and create an herbal poultice with it.
Keratosis Pilaris Home Remedy Using Herbal Poultices Video
How to Create Herbal Poultices
Making an herbal poultice is a straightforward process. There are only a few ingredients needed:
Water
Herbs (either one herb or mixture of herbs)
Flour
The steps are as follows:
Put 2 cups of herbs into a food processor
Slowly add ½ cup of water and 2 tsp. of flour and pulse the herb mixture until a paste develops
Apply the paste directly to the skin and let it dry for about 1 hour and rinse
Herbal poultices make an effective keratosis pilaris home remedy when applied regularly. They can be used until significant results are seen.